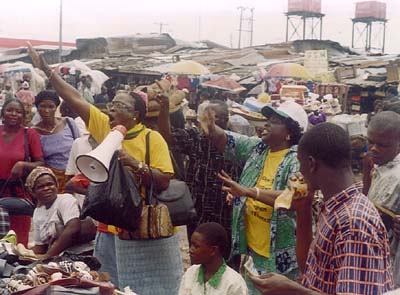 The Programme envisaged three information campaigns in the Edo State, aimed to contrast trafficking in human beings by informing people and making them aware of the inhuman aspects of this cruel trade. The first one was intended to reach parents, traditional chiefs and priests, the second rural villages and the third children. The activities, carried out by a Coalition of six local NGOs, took place from July to December 2003.
The first campaign was carried out by the Committee for the support of the dignity of women (COSUDOW) and Idia Renaissance. The campaign was organized at different levels through radio jingles, face caps, T-shirts, stickers, posters, leaflets and handbills, and through meetings organized by various clubs, vocational centres, trade unions and social associations. In addition, traditional rulers, chiefs, opinion leaders and priests were visited in order to have their support. The campaign's messages were in the Edo language and Pidgin English.
The second awareness campaign was carried out by the International Reproductive Rights Research Action Group (IRRRAG) and the National Council of Women's Societies (NCWS). The campaign was carried out all over the State, especially in rural areas where the traffickers are shifting their recruitment base and exploiting the ignorance of the rural population on the problem. The aim was to educate, enlighten and inform parents of the ills associated with trafficking. Altogether, three market enlightenment programs, a big seminar and two workshops were realized. Market leaders and traditional rulers were involved. Enlightenment programs were also carried out in women's prayer meeting venues, in places for men, and within established women's groups in churches and other groups. Information, Education and Communication (IEC) materials, such as leaflets, stickers, posters, T-shirts, face caps, were distributed at the activity venues in the Edo language, Pidgin English and other local languages. Radio adverts and jingles were also aired in the Edo language and Pidgin English.
The third awareness campaign was carried out by the Girl's Power Initiative (GPI) Edo/Delta State and African Women Empowerment Guild (AWEG) aimed at reaching in and out school children in Benin City. The purpose was to increase the knowledge of children on issues of trafficking in persons and increase their capacity to resist offers of traffickers and their agents. The project also meant to inform Ministry of Education officials, secondary school principals and teachers, market women and men, bus drivers, and commuters in Oba Market and Park. Different activities were organized: seminars for school prefects of one hundred public and private schools located in Oredo, Egor and Ikpoba Okha Local Government Areas; school visitations (ten selected school were visited and given education and counselling sessions on trafficking and personal empowerment skills training); campaign visits to Oba Market and Park to reach vulnerable out-of-school minors; radio jingles directed at minors in Edo language and Pidgin English.
The Pidgin English language jingles were aired by Independent Radio three times daily for three months (13 weeks) from August 1st to October 31st, 2003, as follows:
6.14 am - 7 am Morning belt;
11 am - 1 pm Afternoon belt;
4.30 pm - 6 pm Evening belt.
The Edo language jingles were aired by Edo Broadcasting Service (EBS) Radio twice daily for ten weeks from October 1st to December 9th, 2003. As follows:
| Day | Morning Belt | Afternoon Belt |
| --- | --- | --- |
| Mon | 11.33 am | 5.30 pm |
| Tue | ----- | 2.15 pm and 5.30 pm |
| Wed | 9.33 am | 4.30 pm |
| Thu | 8.33 am | 5.30 pm |
| Fri | ----- | 1.15 pm and 9.30 pm |
| Sat | 11.05 am | 12.30 pm |
| Sun | 11.33 am | ----- |
A selection of awareness materials